Watching Mitsudomoe rn!!!
SO FUNNY
! XD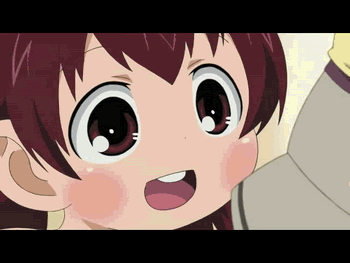 You need to survive episode 1 and you'll be rewarded with lots and lots of fun. I totally love it! ♥ I can't stop laughing, Mitsuba is the most hilarious one /hearts her X3
The plot revolves around a sister triplet going to primary school. They have very different personalities: good, bad & scary, but they're all very lovable and funny. :3 Futaba's obsession with boobs & Mitsuba's love for making people suffer, Hitoha's scary yet cute and shy, the boys go wild for panties~~~~ !!!
The teacher's a good guy, but mostly a victim to the triplet's antics. <3
The series is finished with 13 episodes. :)
Current Mood:
mischievous